fmGenie Radio Aid Systems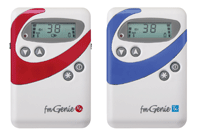 The Connevans fmGenie is the best quality body-worn fm radio aid to allow hearing aids work to their best ability. The fmGenie is a multichannel system with long battery life, LCD status display and many innovative features.
The fmGenie has superb sound quality, high visual appeal and advanced user features - we believe the fmGenie to be the best radio aid available.
What is an fmGenie?