Assistive listening for TV - wirefree
Systems with an inductive neckloop receiver for hearing aid...

Systems with a headset receiver for non hearing aid users...
This wireless TV Speaker lets you enjoy your favourite shows...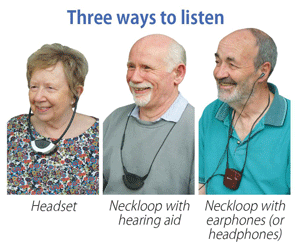 Connevans offer a wide range of TV wireless assistive listening systems ‒ designed to boost the volume for just one person. There are neckloop options for hearing aid wearers or stereo headsets for
people who don't wear a hearing aid.
How do the systems work?
There are two main parts to these systems:
a mains powered transmitter and a wireless receiver with a rechargeable battery ‒ all the systems offer a wirefree connection between you and your TV (or audio system).
The transmitter base station requires mains power and is placed in a prominent position near the TV. It needs to be connected to the TV either using a wired microphone attached to the TV loudspeaker or more
commonly plugged directly into the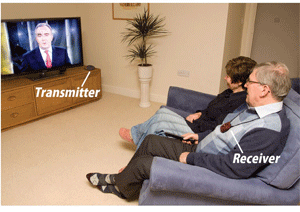 back of the TV using the SCART or audio out connection. 
The receiver is worn by the listener. It has a rechargeable battery and when not in use is placed in the transmitter charging cradle. With some systems, a spare battery can be recharged in the base station whilst the system is in use.
Our wireless TV listening comparison and feature chart below:
Wireless listening devices comparison chart
All the systems we sell can be used with any television, radio or sound system with an audio output and are very much 'plug and play'.
Wireless TV listening: which system to choose - infra red or digital?
Infra Red: Operates within line-of-sight in the same room. The advantage with infra red is that several systems can be used in adjacent rooms making it eminently suitable for multiple occupancy residences.
Digital Radio:  Can be used anywhere within the range of the transmitter. This allows freedom of movement around the same or adjacent rooms. Also good for those with visual impairment as it doesn't require line-of-sight use.

Our experience is that Infra red is the most popular choice for TV listening whereas the Digital systems are a better choice for use with a radio or hi-fi because you can listen in the next room or nearby garden. Remember that digital Freeview, Sky & Cable TV now includes radio channels. If you have a plasma TV, we recommend purchasing a digital, rather than infra red, system to avoid the possibility of interference.

Neckworn receiver for hearing aid users using 'T ' and non-hearing aid users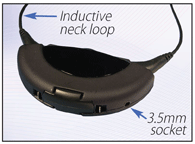 All the neckloop systems offer excellent field strength and good mono sound quality. They also all have a standard headphone socket, making them ideal for those who have a hearing aid but don't wear it all the time. 
The inductive neckloop allows hearing aid users to listen on the Loop Programme ('T') of their hearing aid, which greatly improves the sound quality.
Non hearing aid users can use the 3.5mm stereo headphone socket to plug in their own headphones or earphones ‒ click here for our headphone range.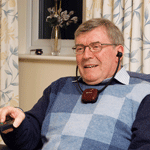 Headset receiver for non hearing aid users
Stereo stethoscope-style headsets are ideal for hard of hearing people who need to increase the TV volume and do not have a hearing aid.
In many cases, although they may be able to hear the television, the volume is often too loud for others in the room.
All these systems offer excellent stereo sound quality. Non-hearing aid users can also use any of the neckloop systems with a pair of 3.5mm stereo headphones or earphones ( click here).